Join the Zombie Police in Protecting America (and especially highway overpasses around Miami).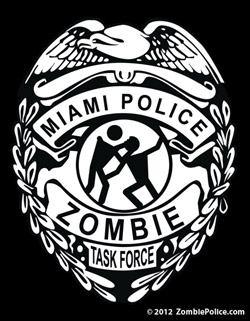 Also, if you are one of the HERO OFFICERS involved, then please email us from a Miami Police Email and we'll totally hook you up with a free shirt.
Please include contact info... Seriously, you guys should put "the possibility of shooting a flesh-eating zombie" on your recruitment posters.
GET THE SHIRT NOW!
FREEEEEE SHIPPING (Say it like a Zombie).
Order Now! Shirts Will Arrive in 1-2 Weeks!
Questions?